12. Export Wizard
JacketCaster's Export Wizard lets you send your data wherever you want, whenever you want. This includes JacketCaster's channels (such as Amazon, BN.com, Borders.com, Yahoo, Ingram, and Bowker), as well as any FTP site or email address you specify.
The Export Wizard lets you choose:
Data formats, including ONIX, BISAC fixed, tagged ASCII, Tab- & Pipe- Delimited, our standard web page layout, and our standard email announcement.
Types of books, chosen by subject codes, publication dates, price, book format, and target audience.
How often the data is sent
Who gets the confirmation
There are three ways to begin exporting your title data:
From the JacketCaster Home page, click "Export Titles"
From any Title Options page, click "Export" (to export only one title)
From anywhere in JacketCaster, click on Export Wizard in the left-hand navigation bar.
The following screen shows the four ways to choose titles to export: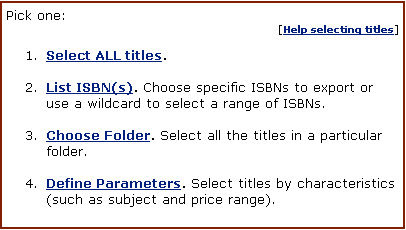 Once you have chosen titles to export, the Export Wizard walks you through the process of choosing a destination, data format, and schedule. When you have finished, your data will be exported, and you will receive an email confirmation. You may refer to your past exports by clicking on Past/Inactive Exports on the Export Wizard page; you may edit or cancel future or recurring exports by clicking on Recurring/Future Exports.

When you export data to JacketCaster channels, such as Amazon, BN.com, and Bowker, JacketCaster automatically audits your data to insure that it meets the minimum standards of those channels. Your confirmation email will notify you of any incomplete data, and tell you exactly how to make it complete.

There is no limit to the number of titles you can export, and you can export as often as you like. We encourage our customers to export a title every time they make a significant change.