8. Permissions
JacketCaster allows you to give account access to any number of employees, and assign varying levels of permissions to them. For instance, you may want some employees to be able to add and edit data, but not export it.
By default, the first user of an account is given Admin privileges, allowing him or her to create other users and assign permissions to them, by clicking on the "Manage Users" link on the left-hand navigation bar (the bottom link in the illustration below).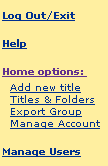 At Login, JacketCaster will tell each user exactly which permissions have been assigned to him or her. Users who lack certain permissions will see "grayed-out" text in the appropriate sections, which will not respond to their clicks.